Pension Camp was held at Hoshiarpur on 16 Oct 2016 from 9 AM to 5 PM. It was attended by 13 Officers,  362 veterans and 66 veer naris and also staff from SBI, PNB & DPDO.
The following Pension Cases Resolved :
– Ex Servicemen : 87
– Vir Naris : 23
– OROP Cases : 41
– 33 Yrs Rule entitlement: 37
All others indl cases were discussed and the ESM were advised accordingly ,who were satisfied. All present Ex Servicemen and Vir Nari appreciated the pension camp and thanked TSEWA
123 ESM have become members of TSEWA. Membership fee and amount deposited in TSEWA account. Membership Forms sent by courier  to TSEWA office.Many more are also coming forward to become member .
Looking forward to organise such pension camps in each Distt of Punjab .
Ex Servicemen Movement thanks Brig S Vidyasagar and Col AS Rana for coming to Hoshiarpur and resolving all pension related cases.
Thanks and Regards
Col Raghbir Singh
Inauguration, Awareness Tour 
Hoshiarpur 16-10-2016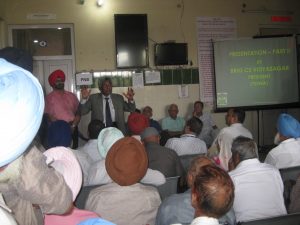 Brig Vidyasagar addressing the gathering
Awareness Tour, Hoshiarpur 16-10-2016
Audience listening with rapt attention
Awareness Tour, Hoshiapur 16-10-2016
Awareness Tour, Hoshiarpur 16-10-2016
Awareness Tour, Hoshiarpur 16-10-2016